Tulips
Carefully selected range of tulips for the spring garden we think these tulips are quite special, and will perform well in the garden. Tulips like a well prepared garden bed, with a feed at planting time, and more importantly a feed when in active growth just before flowering, this really gets the small bulbs attached to the parent flowering bulb really growing, this is most important for the next seasons flowering, especially in Canterbury when we are often a little drier, which means they dry off quite quickly, and once this happens the small growing on bulbs don't quite get big enough, which can mean on some varieties the next seasons bulbs aren't big enough to produce wonderful spring flowers.
Tulips are great in pots and kept in a cooler place they last for weeks, in large pots you should get 2 seasons of enjoyment, they will then need to be re-potted in a good quality potting mix , picking out the best looking bulbs, and you can grow on the smaller bulbs with a feed in the vege garden or pots.
Tulip bulbs get their energy for next season when they have finished flowering and starting to die down, so that's a great time to sprinkle over fertiliser. Tulip bulbs like the cold, so in warmer areas you will get better flowers by lifting them after they have died down, storing in an onion bag, and putting them in the fridge for 6 weeks prior to re-planting in Autumn.

Anaconda
Deep pink on tall stems, This tulip will brighten any garden.
5 for $7 or 10 for $13
Ad Rhem
Another favourite, strong red/dark orange with yellow margin.
SOLD OUT

Antarctica
NEW
Beautiful clear white tulip.

SOLD OUT

Black Diamond
What a striking colour,
looks fantastic in large numbers.
SOLD OUT
Dow Jones
NEW
Stunning red with contrasting yellow edges.
5 for $7 or 10 for $13

Flaming Kiss
NEW
Pale pink with claret markings, this new tulip is a stunner.
SOLD OUT

Friendship
Tall impressive light yellow/cream.
SOLD OUT
Golden Parade
Clear yellow, a burst of sunshine for the garden.
5 for $6.50 or 10 for $12
Heydar Aliyev
Lovely new strong growing purple tulip.
5 for $7 or 10 for $13

Il de France
Lovely, dark cardinal red tulip. Nice open form.

SOLD OUT
London
Clear red tulip, great planted
en mass. Mid season
(Darwin Hybrid).
SOLD OUT

Mixed Tulips
Great mix of colours, we select great varieties for these packs.
SOLD OUT
Piet Veerman
Beautiful new tulip, strong grower. Soft pink.
5 for $7.50 or 10 For $13

Pink Diamond
Soft pink, late flowering. Looks great planted with Friendship.
SOLD OUT

Pretty Princess
Stunning new pink with a lovely flare in petal.
SOLD OUT

Ronaldo
Slightly lighter in colour and smaller in form than Black Diamond.

SOLD OUT
Spring Green
White tulip with central green stripe, a favourite in our garden.

SOLD OUT
Pretty Woman
Wendy's favourite, lovely form.
Lily tulip

SOLD OUT
Tres Chic
Beautiful smaller growing tulip.

Lily tulip
SOLD OUT
Angelique
Blush pink tulip, absolutely beautiful, one of our most popular tulips.
Paeony tulip

SOLD OUT

Carnival de Nice
White striped with red, stunning.

Paeony tulip

5 for $7 or 10 for $14

Foxtrot
Combines white with pink, a really lovely tulip.
Paeony tulip

5 for $7 or 10 for $13
Menton Unique
Stunning tulip soft hint of apricot tonings.
Paeony tulip
SOLD OUT
Mixed Paeony Tulips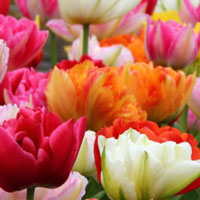 Mixed from our selection.
Paeony type
5 for $7, 10 for $13 or 20 for $23

Orange Princess
Great orange tonings with red and green highlights.
Paeony tulip

SOLD OUT
Red Princess
Bright red with darker accents on each petal.
Paeony type
5 for $7 or 10 for $13
Verona
Soft creamy faint yellow double tulip. Glorious.
Paeony tulip
SOLD OUT
Wyndham
NEW
Beautiful claret pink with lighter pink edges.
Paeony tulip
SOLD OUT
Honeymoon
White and deeply fringed, looks great in both cottage and formal gardens.
Fringed tulip

SOLD OUT

Flaming Parrot
Great to have this one back, ruffled yellow and red petals.
Fringed tulip
SOLD OUT
Bulk Tulips
NEW
Red x 50 SOLD OUT
Pink x 50 $30
Yellow x 50 $30