Spring Bulbs
We are pleased to offer this selection of spring bulbs and perennials. Crocus and Muscari add great interest to the front of the garden and are also great in pots. Daffodil flowers turn their face to the sun, so make sure to plant them so that you see their faces.

Blue Pearl
Gorgeous sky blue flowers.
5 for
$6 or 10 for $10

Firefly

Pale lilac, yellow stamens. Early to flower
5 for $6 or 10 for $10
Cream Beauty
Clear cream flowers with orange stamens. Fragrant.
5 for $6 or 10 for $10

Species Mixed
Good mixture of colours.
5 for $6 or 10 for $10

Prince Claus
Bii-colour, purple & white.
5 for $6 or 10 for $10

Purity
Lovely clear white with orange anthers.
5 for $6 or 10 for $10

Muscari White Magic
Known as Grape Hyacinths,
these little beauties are great
en mass and will do well in
pots as well as the garden.
5 for $7, 10 for $12 or 20 for $20
Galanthus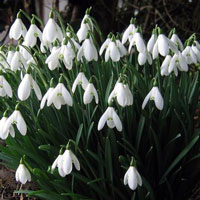 English snowdrops
August flowering.
5 for $10 or 10 for $15
Mixed Daffodils
This year we have the privilege of being able to
supply a lovely mix of these beautiful bulbs.
10 for $14 or 20 for $25